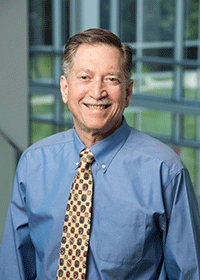 Titles and Organizations
Professor, Systems Engineering and Operations Research, College of Engineering and Computing
Contact Information
Phone: 703-993-1624
Campus: Fairfax
Building: Nguyen Engineering Building
Room 2223
Mail Stop: 4A6
Personal Websites
Biography
Leonard Adelman's research is oriented toward (1) understanding judgment and decision processes, and (2) designing and evaluating systems to support them. Regarding the former, Adelman has performed research to understand how people define (or "frame") judgment and decision problems. He has shown, for example, that how people frame problems can significantly affect the type of decision options they generate and select; anchor them on an incorrect cause of the problem because it leads them to emphasize confirmatory instead of dis-confirmatory information; and result in order effects, where the same information presented in different ordered sequences can result in different decisions.
Regarding the latter, Adelman has been involved in designing prototype systems and training procedures to support accurate, robust framing and, more generally, judgment and decision making processes. He also has been involved in evaluating geospatial-tool prototypes developed by the Army to support tactical planning, and possible human-computer interface changes to the Army's Patriot air defense system and the Air Force's Airborne Warning and Control System (AWACS). In addition to publishing journal and conference papers and book chapters, Adelman has co-authored one book on cognitive systems engineering, and authored one book and co-authored another on evaluating decision support and knowledge-based systems.
Research
2006 - 2010 : ArmyGeospatial Battle Mgmt Language & Experimentation Tec 12: Task 2. Funded by US Army.
2006 - 2008 : Army Geo BML: Tec 12- Task 2. Funded by US Department of the Army.
2006 - 2007 : Army Geospatial Battle Mgmt Language & Experimentation Tec12: Task 2 -. Funded by US Army.
Research Interests
C4I, Decision Support Systems, Human-Centered Design, Evaluation
Degrees
PhD, Psychology, University of Colorado, Boulder
MA, University of Colorado, Boulder
BA, Florida State University