Body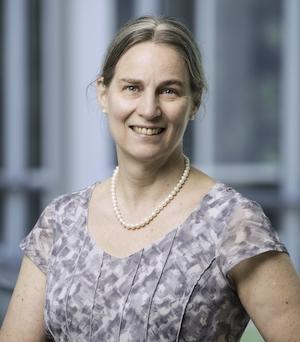 During college, Kathryn Laskey, professor of Systems Engineering and Operations Research and associate director of the C4I Center, liked playing the guitar. Once life quickly got busy with family and career, the guitar was placed on hold.
But now, at the start of her retirement after wrapping up 32 years at George Mason University, the guitar might make a comeback.
"I enjoy having music in my life and I'll probably get back to that," she says.
It's been a fulfilling time at Mason for Laskey and she says it's been gratifying to be a part of seeing the campus grow from a small, little-known niche to a thriving, world-class research university in a major metropolis.
"When I started, the engineering building was a parking lot. There were no parking garages. My office was in a trailer. There were few people. But over the years, I have seen such tremendous shifts in both structural growth and community and pride. Now when you walk up to a student and ask them where they go, they proudly say 'George Mason.'"
Given its location and talented staff, Laskey knew when she first came on board that Mason would be a part of bigger and greater things. That potential was one of the reasons she wanted to be here.
"I've run into people who haven't been to Mason in maybe a decade or two, and it's unrecognizable to them now. The George Mason name is known worldwide as a great school," she says.
Laskey says it's been an incredible 32 years, and just a few of her accomplishments include starting the Center for Resilient and Sustainable Communities, and pioneering research within AI which was early in its explosive growth when Laskey first joined Mason. She has more than 150 peer reviewed publications and is on the Board of Directors of the International Society of Information Fusion and the Washington Metropolitan Area chapter of the International Council on Systems Engineering; she is past president of the Association for Uncertainty in Artificial Intelligence.
She'll still keep her hand in research, she says, and is currently working on a few items. One is a machine learning project that will aid in predicting ground water levels, in order to support drilling wells for agricultural needs. Another is a project on expanding digital opportunity in Tribal communities.
Although she says she doesn't have definite retirement plans per se, music, time with grandkids and staying involved in research projects will keep her busy for the time being.
Besides her job, interacting with her students and colleagues, Laskey says she will also miss the beauty of the Fairfax Campus.
"It's a bittersweet time in starting a new chapter and there is a huge amount I'm going to miss," she says. "I'm honored to have been a part of making GMU what it is today."