Our Graduates have Bright Futures in Exciting Careers
SEOR graduates have made their mark in a variety of fields in the world's best companies and organizations.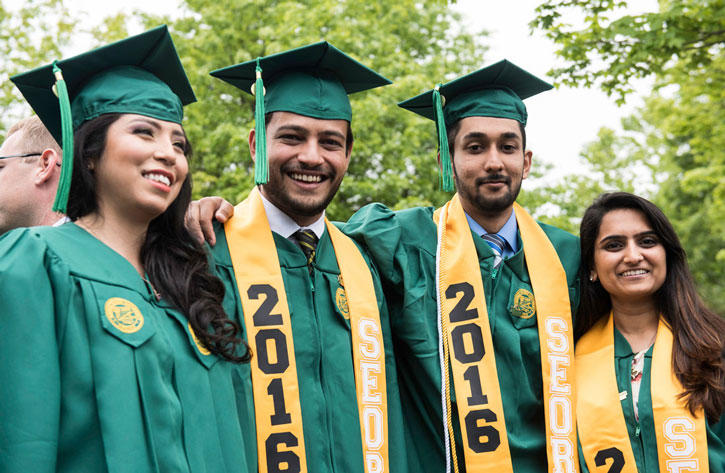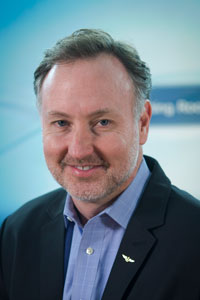 Burke, who has a master's degree in Operations Research from Mason, founded the AdvancedFootballAnalytics website. He joined ESPN as a senior analytics specialist in June 2015. As a member of the Stats & Information Group's Analytics Team, he works in football analytics while helping ESPN develop analytic tools in other sports. Burke has also written for The New York Times, The Washington Post, and Slate, and has been a regular speaker at the MIT Sloan Sports Analytics Conference. He previously worked as an analytics consultant for multiple NFL teams and supplied statistics and analytics insights to NBC Sports and ESPN The Magazine. Before entering the world of sports analytics, Burke was an officer and aviator with the U.S. Navy, with much of his time spent as a F/A-18 carrier pilot. He flew numerous combat missions and was awarded the Air Medal, the Navy Commendation Medal, and numerous other personal and unit commendations.
Dr. William Forrest Crain
Dr. Crain, who earned a PhD in Information Technology at Mason, is director of the Center for Army Analysis (CAA), which conducts studies on planning and force development issues while focusing on and maintaining expertise in theater-level operations and Army processes, especially resource allocation. Previously, Dr. Crain served as director of the U.S. Army Materiel Systems Analysis Activity, where he oversaw the analysts, engineers, mathematicians, and scientists providing life-cycle materiel/logistics systems analysis support to Army decision-makers. He was also responsible for oversight of the Department of Defense's Joint Technical Coordinating Group for Munitions Effectiveness and developing joint service-approved methodology, Modeling and Simulation, data and analysis for Army systems. Before that, he was director of Capabilities Integration, Prioritization, and Analysis for the Army Deputy Chief of Staff for Operations, Plans, and Training, responsible for providing strategic direction and oversight for the development, prioritization, and validation of Army capability requirements.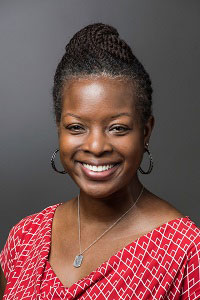 Rochelle Jones, who has both her bachelor's and master's degrees in Systems Engineering from Mason, returned to the department to teach in 2016. Jones says she wants her students to leave the classroom with a fundamental knowledge of systems engineering methodologies and tools to prepare them to be valuable assets to their future employers. She wants to help students understand systems engineering foundational concepts, to help them become "big picture viewers" by looking at a system as a part of a bigger system, and to foster students' communication skills. Before returning to Mason, Jones was a Systems Engineer and Program Manager with Lockheed Martin for more than 14 years. Her research centers on mobile learning and emerging distributed education technologies, specifically, methods to enhance the user experience through the use of mobile devices and human engineering principles. Aside from academic and professional endeavors, she has mentored middle and high school girls in pursuing education and career goals. She is also a marathon runner and has participated in the Marine Corps Marathon several times.
See Where Our Alumni Work
| | |
| --- | --- |
| | Lockheed Martin Corporation |
| | |
| | |
| | Mitsubishi Research Institute |
| | |
| | Northrop Grumman Corporation |
| Decisive Analytics Corporation | |
| | Parsons Brinckerhoff Construction Services, Inc. |
| | |
| Global Strategies Group (Sachs, Freeman, & Associates) | |
| | |
| | |
| | |
| | |
| | Williamsburg Environmental Group |
| | |
| --- | --- |
| | |
| | Logistics Management Institute |
| | |
| | |
| Asia Maritime Transparency Initiative- Center for Strategic and International Studies | |
| Atkins (Post Buckley Schuh & Jernigan) | |
| | Project Performance Corporation |
| | |
| | |
| | |
| | |
| Federal Express Corporation | |
| | |
| | Unified Industries Incorporated |
| | |
| | |
| | |
| --- | --- |
| | |
| | Northrop Grumman Aerospace Systems |
| | |
| | |
| | |
| | |
| Federal Aviation Administration | |
Higher Education and Research
| | |
| --- | --- |
| | |
| | |
| Catholic University of America | |
| | University of Mary Washington |
| | University of Southern California |
Defense, Government, Policy and Law
| | |
| --- | --- |
| Center for Defense Information | |
| Central Intelligence Agency | United States Department of the Treasury |
| People's Democratic Republic of China | United States Army Corps of Engineers |
| Fairfax County Government | United States Coast Guard |
| | United States Department of Agriculture |
| Law Office of Douglas P. Scott | United States Department of Defense |
| | |
| Myers, Dawes, Andras, & Sherman | |
| National Geospatial Intelligence Agency | |
| National Ground Intelligence Center | |
| | United States Marine Corp |
| Naval Sea Systems Command | United States Patent and Trademark Office |
| Naval Surface Warfare Center | United States Postal Service |
| |   |
| | |
| --- | --- |
| Center for Defense Information | |
| Central Intelligence Agency | United States Department of the Treasury |
| People's Democratic Republic of China | United States Army Corps of Engineers |
| Fairfax County Government | United States Coast Guard |
| | United States Department of Agriculture |
| Law Office of Douglas P. Scott | United States Department of Defense |
| MacKay Goldman Law Firm, P.L.L.C. | |
| Myers, Dawes, Andras, & Sherman | |
| National Geospatial Intelligence Agency | |
| National Ground Intelligence Center | |
| | United States Marine Corps |
| Naval Sea Systems Command | United States Patent and Trademark Office |
| Naval Surface Warfare Center | United States Postal Service |
| |   |
| | |
| --- | --- |
| Center for Defense Information | |
| Central Intelligence Agency | United States Department of the Treasury |
| People's Democratic Republic of China | United States Army Corps of Engineers |
| Fairfax County Government | United States Coast Guard |
| | United States Department of Agriculture |
| Law Office of Douglas P. Scott | United States Department of Defense |
| | |
| Myers, Dawes, Andras, & Sherman | |
| National Geospatial Intelligence Agency | |
| National Ground Intelligence Center | |
| | United States Marine Corp |
| Naval Sea Systems Command | United States Patent and Trademark Office |
| Naval Surface Warfare Center | United States Postal Service |
| |   |
| | |
| --- | --- |
| | |
| | |
| | |
| Fair Isaac Corporation (FICO) | Pension Benefit Guaranty Corporation |
| | |
| | |
| | |
| | |
| | |
| Inter-American Development Bank |   |
| | |
| --- | --- |
| | |
| | United Network for Organ Sharing |
| International Atomic Energy Association | World Health Organization |
| Rockwell International Corporation Trust |   |
Data Analytics, Modeling, and Simulation
| | |
| --- | --- |
| | |
| | Personify (TMA Resources) |
| Data Meaning Services Group | |
| | |
| | |
| | |
| | |
| Meridian Knowledge Solutions | Vencore Services and Solutions |
| |   |