Body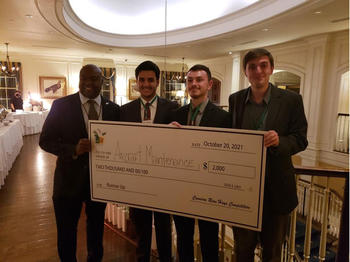 Movies like Top Gun never quite reveal a look behind the scenes at the Navy's scheduled maintenance methods for jet engine parts. Nevertheless, an enterprising team of System Engineering students decided it might be worth investigating to see if they could uncover how to decrease costs and improve efficiencies. Their project was sponsored by System Engineering Professor K.C. Chang as part of a research contract with the U.S. Navy.
Traditional scheduled maintenance methods require jet engine parts to be replaced on a pre-defined schedule. To ensure safety, many parts are replaced early, resulting in unnecessary maintenance costs and fleet downtime. New advances in technology have enabled manufacturers to add sensors to jet engines. With the sensors in place, the jet engine parts can be carefully monitored and replaced only when necessary.
"The concept is simple," says Reed Lawrence (SE, BS '22), "but the implementation of a condition-based maintenance system is really complicated."
"First we had to build a digital-twin of the jet engine," explained Wyatt Mingus (SE, BS '22). "The digital-twin is a simulation of the real system that can be used to predict the degradation of component performance in the simulation before it occurs in the actual jet engine."
It works like this. Sensor data from the jet engine operating in the field is fed to the simulation. The simulation predicts performance of each part forward in time. When the part's performance degrades beyond a threshold, the part must be replaced.
"We tested the digital-twin using a NASA simulation of jet engines," says Abdulrahman Albawardi (SE, BS '22).
"For a planning horizon of seven days, a fleet size of five aircraft, and 10 maintenance technicians, we estimated a reduction in maintenance costs of 45 percent and an increase in fleet availability of 17 percent," says Lawrence.
Chang says, "This was a very complex project. The students had to deal with massive amounts of data and a sophisticated digital-twin simulation. Their discipline and attention to detail was critical to success."
"When we started, all we had was lines and lines of code," says Lawrence. "Professor Chang was so supportive he gave us the freedom and the time to explore the problem thoroughly and come up with our own solution. We're hoping that our project lives on in the department and eventually can be used in industry or elsewhere."
"The student's perseverance and creativity was remarkable," says System Engineering Capstone course instructor Associate Professor Lance Sherry. "The team had to overcome some challenging technical problems to achieve a workable system. The System Engineering process was vital in providing a structure to separate the issues and tackle them in a logical order."
The project won several awards. The team took second place in the 2022 Accelerate Venture Capital Competition in October 2021. They also won first place in the Military and Government Track at the Fifth Annual Andrew P. Sage System Design Conference in April 2022.
"The quality of the students' simulation and understanding of the value of a digital twin for a jet engine is impressive," says Michael J. Szostak, vice president, Aviation Programs at SAIC. "Sustainment costs for military aircraft engines can be very high and Condition-Based Maintenance is the future to bringing those costs down. High-end modeling and simulation--like what is being done at GMU--is key to those cost savings."
To learn more about system engineering, digital twin, robotics, and data analytics, or to donate or sponsor a research project, contact System Engineering Department Chair John Shortle at jshortle@gmu.edu.
Topics