Body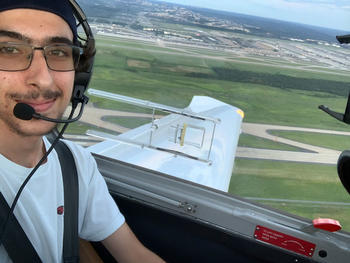 Darius Jack, a junior in the Systems Engineering and Operations Research department at the George Mason University College of Engineering and Computing, knew from an early age that he wanted to be a pilot, his captivated face plastered to the window - it was always the window seat - when he took trips with his family.  
A brief conversation reveals how much he just loves planes and flying. "There's a place at Reagan National Airport called Gravely Point," he details. "You can listen to a live website to hear the tower talking to the pilots and you can sit there watching the planes come in. You're in the environment, but you're spectating." He'll even whip out his phone to show you the site liveatc.net, with real-time air traffic control visuals at the ready. 
Growing up in Northern Virginia, he regularly attended an airshow in Bealeton called "The Flying Circus," replete with World War II biplanes. Attendees could go up in the planes as a passenger. Darius notes there was no canopy or cover on the plane - and the 15-year-old budding aviator was allowed to take a plane's controls for the first time, feeling what it was actually like to make an aircraft dive and climb. 
Darius made a point to learn Federal Aviation Administration rules around flying and licensing, and did everything as early as he possibly could, including doing his first solo flight at 16 and getting his license at 17. The $10,000 investment was cobbled together by money earned from a pizza parlor job, split with money that his parents offered to throw in to help him reach his dreams.
"When I got my license, my first passenger was my grandfather - he was the guinea pig. My mom was like, 'No way! I'm not flying with you in this small plane!'  Then after the flight, my grandpa became my biggest advocate, telling everyone how fun it was."
His love for planes blends perfectly with his interest in engineering. "Middle school was the earliest I could take STEM classes," he notes. "We would build truss bridges and dragsters and I was so interested in that…it was a perfect fit. I loved doing those things and I loved aviation, so I was seeking a way to bring these two together; systems engineering is exactly that. It's a halfway between engineering and aviation systems."  
And "engineering habits of mind" serve him well in the cockpit. "There are a lot of numbers involved when flying. You have to think abstractly and if you can understand when, for example, an instrument is not working, you have to think about what's causing that to not work. That stuff comes easily to me because I'm an engineering student." And conversely, he uses his aviation skills in school. "We have a project in Operations Research 541, at the graduate level, about optimization. Our team takes a bunch of variables and constraints and comes up with our own idea about optimizing. So our project is: there are 65 public use airports in Virginia and we need to figure out if you were to select a number of airports, how to find an optimized route among the airports."
That's all part of a larger plan, of course. Darius excitedly reports, "There is a challenge in local aviation, called the Virginia Aviation Ambassadors Program. There are about 65 airports in Virginia. If you visit all of them, the Virginia Department of Aviation awards you a really cool, custom-embroidered leather jacket for free!"
He's checking boxes (first solo flight: to Connecticut; first nerve-wrenching close call: flying into a sudden storm, with his dad beside him, on his dad's first flight with Darius) as he makes his way to commercial pilot status. His route on the ground, while more confined, can also take him places. "Our SEOR program is one of the best in the nation and I'm super happy I chose the path that I did."