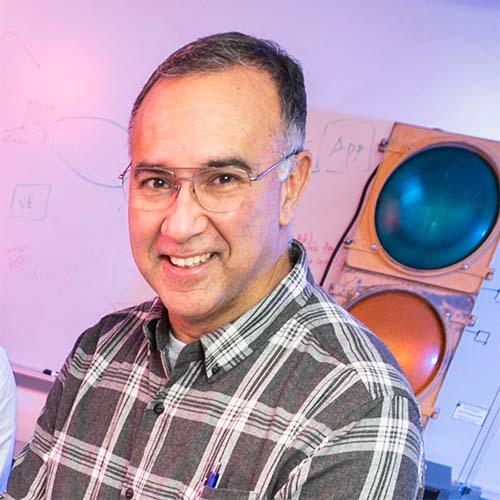 Titles and Organizations
Associate Professor, SEOR; Acting Chair, Department of Cyber Security Engineering
Contact Information
Phone: 703-993-9989
Campus: Fairfax
Building: Research Hall 331
Mail Stop: MS 6B1
Personal Websites
Biography
Paulo Costa has applied his significant experience as a fighter pilot to a career specializing in the field of electronic warfare and flight safety, which in conjunction with his research on probabilistic reasoning has led to applications in cyber and transportation security, heterogeneous data fusion, and decision support systems in healthcare, defense, and other areas. These topics are at the core of his classroom activities at both graduate and undergraduate levels, as well as his research path. Costa leads the research of graduate-level students in understanding security objectives and verification protocols, bringing in the science of probabilistic reasoning and challenging PhD-level candidates to consider theory and methods for building computationally efficient software agents that reason, act, and learn in environments characterized by noisy and chaotic traffic.
Costa is a key researcher in the field of probabilistic ontologies and developed innovative applications and extensions that aid in the fight against cyber-warfare. He is a Co-Director at Masons's Radio and Radar Engineering Lab and Director for International Collaborations at the Center of Excellence in C4I&Cyber. He received his MS and PhD from George Mason University. 
Degrees
PhD, Information Technology, George Mason University
MS, Systems Engineering, George Mason University
BS, Engineering, Brazilian Air Force Academy
Research Interests
Defense systems
Ontologies and information fusion
Probabilistic reasoning
Research
2015 - 2016: Decision Support for Secure Air Transportation Systems. Funded by Fundacao Casimiro Montenegro Filho.
2014 - 2014: Context-Based Decisions with Multi-Entity Decision Graphs. Funded by Office of Naval Research.
2012 - 2012 : SBIR: Image Feature Extraction for Improved EW Classification. Funded by Impact Technologies, LLC.
Publications